Thomas French, DC Chiropractor
An Experienced and Caring Chiropractor in Norwalk, CT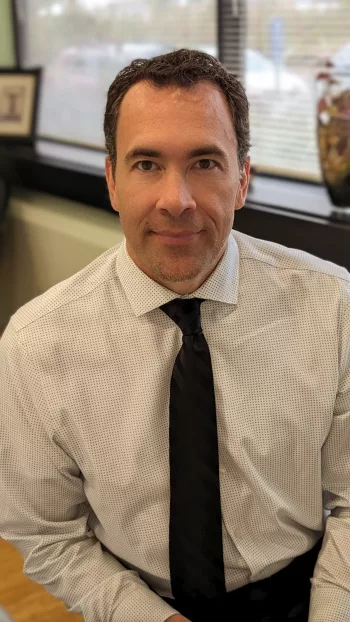 Dr French tries to treat each patient like a member of his own family. With over 20 years of experience treating patients in Norwalk, CT, he can help you feel better as quickly as possible.
Located near exit 16 on I-95 in Norwalk, CT, our comfortable office will help you feel relaxed. Our friendly staff can help answer your questions.
Read our blog for more information on various health topics
In today's digital age, certain chiropractic techniques like the "ring dinger" adjustment have gained notoriety on social media. These adjustments,...
Read More
Dr French emphasizes good posture to maintain the health of your Spine
 "The doctor of the future will give no medicine, but will interest his patient in the care of the human frame, in diet and in the cause and prevention of disease." – Thomas Edison, 1903
I have been seeing Dr. French for several years and he is wonderful. I recommend him to family and friends often!
Thomas is a awesome chiropractor! Very knowledgeable and saw me on short notice. He was very kind and took his time explaining how he was going to treat my particular problem (lower back). Teresa his secretary was very personable too, and was of great help to me. I highly recommend this practice.
So happy I found Dr. French as my chiropractor! I've been having lower back pain for a few months and decided to search the internet for a chiropractor in my area (recently relocated from NYC). Dr. French had wonderful reviews and I couldn't agree more. I'm already feeling better and having much less pain after a few sessions. The office is easy to get to, clean and safe. I'm looking forward to my future visits and life without back pain!
It was my first time at a chiropractor and I didn't know what to expect I went there for my lower back pain first the office is really relaxing and calming the receptionist was super friendly dr French was unbelievably nice and really patient and just a real down to earth nice guy I left there feeling great I highly recommend him
This place was incredible. The treatments were awesome and helped a lot . The staff were nice and fun. They also made you feel comfortable. I feel way better than the way I walked in to this place. I highly recommend it !!
Reliable, trustworthy and dedicated chiropractor, and excellent with kids as well!
A great Doctor. He listen to his patience and knows his Sport medicine. Excellent results-healthy back and knees. Thank you,
Excellent service felt like new as I walked out